High Quality 100% Viscose Rayon Embroidery Thread
Viscose Rayon Embroidery Thread
Material: 100% viscose filament yarn
Count: 120D/2, 50D/2, 300D/2, 300D/1, 300D/2 * 3, 450D/1, 600D/1 and other specifications
Color: Color cards are available and customized colors are also acceptable.
Packing: Packing at 20yds to 5000yds in small tube or big plastic spool.
Product Features:
Exceptional embroidery performance
High luster, excellent softness
Environmental
Good hydrophilic properties
Anti-static and anti-pilling
Dyed with reactive dyes on 60℃, with excellent brightness and high luster
MH Advantages:
Extensive colour range
Customized products and package are available.
High productivity
Fast delivery
More than 20 years experience in garment accessories.
More than 40 local offices across the world
382,000㎡ plant area and 1900 workers
Nine factories which scatter in three production bases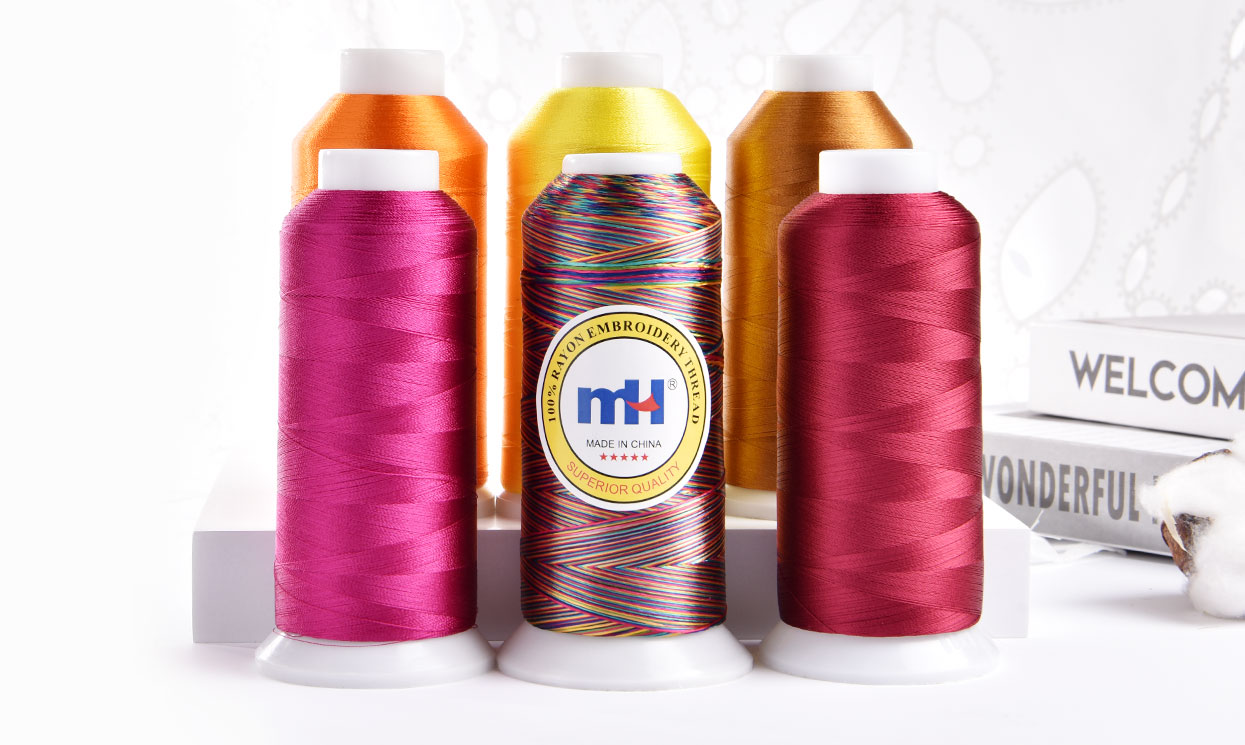 Usage: The embroidery threads are suitable for ladies suits, silk, handbag, lace embroidery, etc.
Color: This is the polyester embroidery thread color card with 800 colors.MH has automatic color matching machines, so we can make accurate color matching sample fastly.
The Difference between viscose and rayon:
The main difference between Rayon and Viscose is that Rayon is a type of textile fabric that is made through the Cellulose Immersion process and made from wood pulp and the fabric has a high absorption capacity, while Viscose is a type of textile fabric that is made through Cellulose xanthate process and made from Plant fibers and the fabric has less absorption capacity.
Comparison Table Between Rayon and Viscose
| | | |
| --- | --- | --- |
| Parameter of Comparison | Rayon | Viscose |
| What is it | A type of textile fabric which is made through Cellulose Immersion process and made from wood pulp. | A type of textile fabric which is made through Cellulose xanthate process and made from Plant fibers. |
| Used in | Medical and furnishing sectors | Dress materials |
| Texture | Cool | Soft |
| Absorption Capacity | High | Low |
| Price | Low | High |
| Durability | Low | High |
| Manufacturing process | Eco-friendly | Not eco-friendly |
Certification: ISO9001:2015、ISO45001:2018、ISO14001:2015, Oeko Tex Standard 100 Class 1